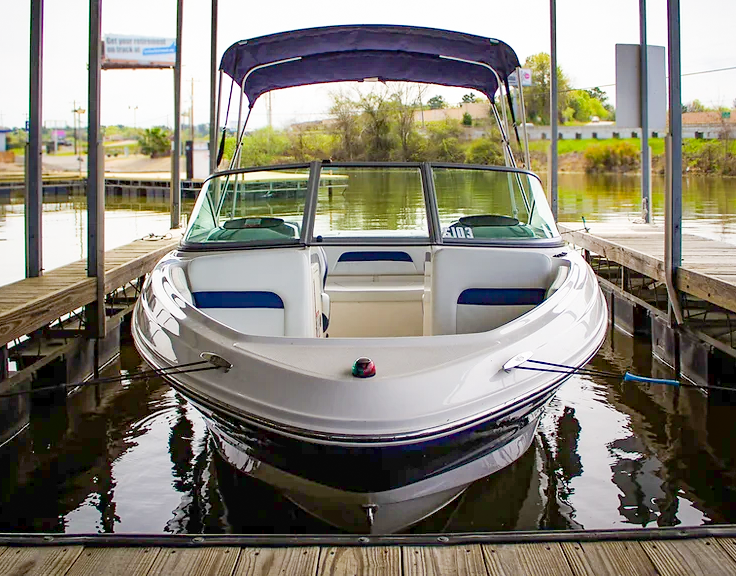 Do you rent boats?
Yes, we rent a variety of watercraft including ski boats, pleasure boats, and tubes.
How much are the rentals?
Toy Rentals
2 person lay-on tube: $35/rental
3 person lay-on tube: $50/rental
Sit-on tube: $55 / rental
Lily pad: $50 / rental
Requirements
Damage waiver: $49/rental
Booking fee: 5%
Customer pays all fuel costs
What are the boat launch rates?
Boat Launch: $20/launch
Kayak Launches: $5/launch
Parking: $10 single car parking
What Credit Cards Do You Accept?
We accept Visa, Discover and Mastercard.
What is required to rent a boat or Sea-Doo?
Must be 21 years of age.
Driver's license (or some proper form of ID i.e. passport)
Credit card must match the individual responsible for the rental.
Rules of boat rental operation
All children 12 years of age and under must wear a life jacket at all times. All passengers must wear life jackets when tubing or while swimming. There are adult universal life jackets under the seats in all boats.
NEVER tow another boat or be towed by another boat. Call the marina for assistance for you or others. If your boat is having problems, call the marina immediately. DO NOT OPERATE THE BOAT WITH ANY ROPE ENTANGLED IN THE PROP
Return boat at scheduled time. Failure to do so will result in extra charges and a $150 penalty fee.
DO NOT drive the boat within 150 feet of shoreline. You will be responsible for damage.
Keep the tow rope out of the propeller. Up to a $150 fee to replace rope and untangle from prop.
Stay 150 feet away from all marker buoys in the lake.
DO NOT drive within 150 feet of other watercraft Or any buoy.
DO NOT swim close to the motor, even when it is not running. Do not allow any horseplay on or near the boat.
Boats are fuel injected, stop and start in neutral. Ease the boat into gear, let it engage then accelerate.
There is a "NO WAKE" area at the marina. Go VERY slowly until you reach the marker buoys.
Kill switch MUST be worn by the driver at all times.  This is a state law.
There is a map of the lake attached to the lanyard. Do not go past 1097 bridge.
Make sure the ladder is in the up position when moving. Do not stand when the boat is in motion.
There is a horn located on the driver's side dashboard.
In the event of an emergency there is a throw cushion and a fire extinguisher below the driver's seat. Immediately call the marina.
Please leave the boat clean. Carry your trash out with you. There is a minimum of $25 cleaning fee if necessary.
DO NOT exceed the occupancy stated on your boat. Every head counts. The lake patrol WILL count heads and enforce the law.
Your boat leaves the marina full. You will be charged for the amount of fuel used.
There will be a pet fee charge of $50. No exceptions.
April Plaza Marina will NOT rent any watercraft to anyone appearing to be intoxicated. DO NOT COME TO THE MARINA INTOXICATED!
Due to safety concerns, April Plaza Marina can no longer allow customers "switching off" at the marina docks onto our watercraft.
Can I pay cash for the rental?
Customers are required to pay for their rental via CC now, in full, at time of booking.
*All credit cards must match the ID of the person responsible for the reservation.
Can we split the payment between multiple people?
We ask that only one person be responsible for the rental itself.
What is the cancellation policy?
Your rental is fully refundable if canceled 48 hours before your reservation.
What if I haven't received my email confirmation?
Please check your spam/junk folder.  If you haven't received your confirmation, please email us at info@aprilplazamarina.com
Are there full day or half day rates for boat rentals?
We offer NO discounts for full or half day rentals. Each rental is charged by the hour.
Are we allowed to switch people out on the dock?
No, due to safety. There is a lot of traffic around our dock. We recommend renting enough capacity for your party.
Do you offer military Discounts?
Yes. A 10% military discount is given if someone in the party shows a military ID.
How early should I arrive for my rental?
We ask you to be here 30 minutes ahead of your scheduled time.
What if I am late for my reservation?
If you are running late, please let us know for scheduling purposes. We cannot guarantee your allotted time if you are late. Please see our cancellation policy above.
What items do you recommend bringing along for our boat rental?
We recommend that you bring your cell phone for emergencies. If music is important to you, we recommend bringing a portable speaker. Our ship store is stocked with drinks, sunscreen, ice, and snacks.
Are life jackets provided with rental? Can we bring our own?
Life jackets are provided with the rental. You are also allowed to bring your own if you wish, and they must be Coast Guard approved. View their regulations on their website by clicking here.
Children 13 and under are required to wear their life jackets the entire time that they are on the boat.
Is fuel included in the boat reservation?
All boats are full of fuel when you depart on your rental. You will be charged only for the fuel you use.  We put a hold on your account for estimated fuel charges and then charge your card at the end of your visit once we refuel the tank.
On average, how much fuel does the boat/Sea-Doo use?
It is nearly impossible to give an accurate quote on fuel consumption. There are many variables to consider (weight, water conditions, wind speed, speed, etc.).
How many people can I have on my boat?
Each boat has a specific maximum capacity. This may not be exceeded at any time. Texas Lake Patrol counts heads. Even an infant counts as 1 person. Safety first! If you violate the law, you could be ticketed.
Is it possible to extend time on a rental?
Yes, if the rental does not have another reservation behind it. The sooner we know, the better. If you happen to be on the lake, call us to check and see if anyone else has the boat reserved behind you. We will do our best!
What if the weather is bad?
We do not charge a cancellation fee for bad weather. If you return early because of weather, we will pro-rate. If the weather is bad and you willingly go out in it, we will not pro-rate.
Do you provide a captain to drive the boat or offer guided tours?
If you are not an experienced boater and prefer to drink and just have fun, we recommend that you hire one of our drivers. The cost is $50.00. A tip is optional if they did an outstanding job.
Will someone teach me how to operate the boat?
Of course! We go over standard operating procedures and lake rules. We will stay with you until you feel comfortable operating the boat.
Do you have a restroom?
Yes, we have a restroom located in our marina store.
Are pets allowed on the boat?
Yes, with a pet fee of $50. This is a non-refundable fee.
Do you have slips available for rent?
Our nightly slips are $69.00 a night (from 12 to 12).
Do you have overnight trailer storage?
Overnight trailer storage if available is $15 per night.
Do the boats have covers?
Every boat has a standard Bimini top.
Do you allow grills on the boats?
There are no fires or grills allowed on our boats.
Do the boats have radios?
While the boats do have AM/FM radios, please understand we cannot guarantee our radios to work on the boats. We recommend bringing your phone and portable speaker.
Can I take the watercraft to shore?
No. Lessee is prohibited from taking vessel to shore or land of any kind. Must stay 150 feet from land/shore at all times.
Can I fish from the boat?
Yes!  To purchase a license, please click here.
Do your boats have  anchors?
Yes, we provide anchors on all rentals.
Can we bring food and alcohol?
Yes, food is allowed. Alcohol is also allowed, however, hard liquor and glass bottles of any kind are not allowed.
Do you sell bait?
Our ship store has live and frozen bait- minnows, goldfish, frozen shad, frozen shrimp, worms, livers and hearts.  We also carry artificial bait and fishing supplies.
Is there a place to park my boat trailer?
Yes. You will see boat trailer parking as you drive into the main parking lot of the marina.
Do you rent SUPs (Stand Up Paddle Boards), paddle boats, or kayaks?
Not at this time.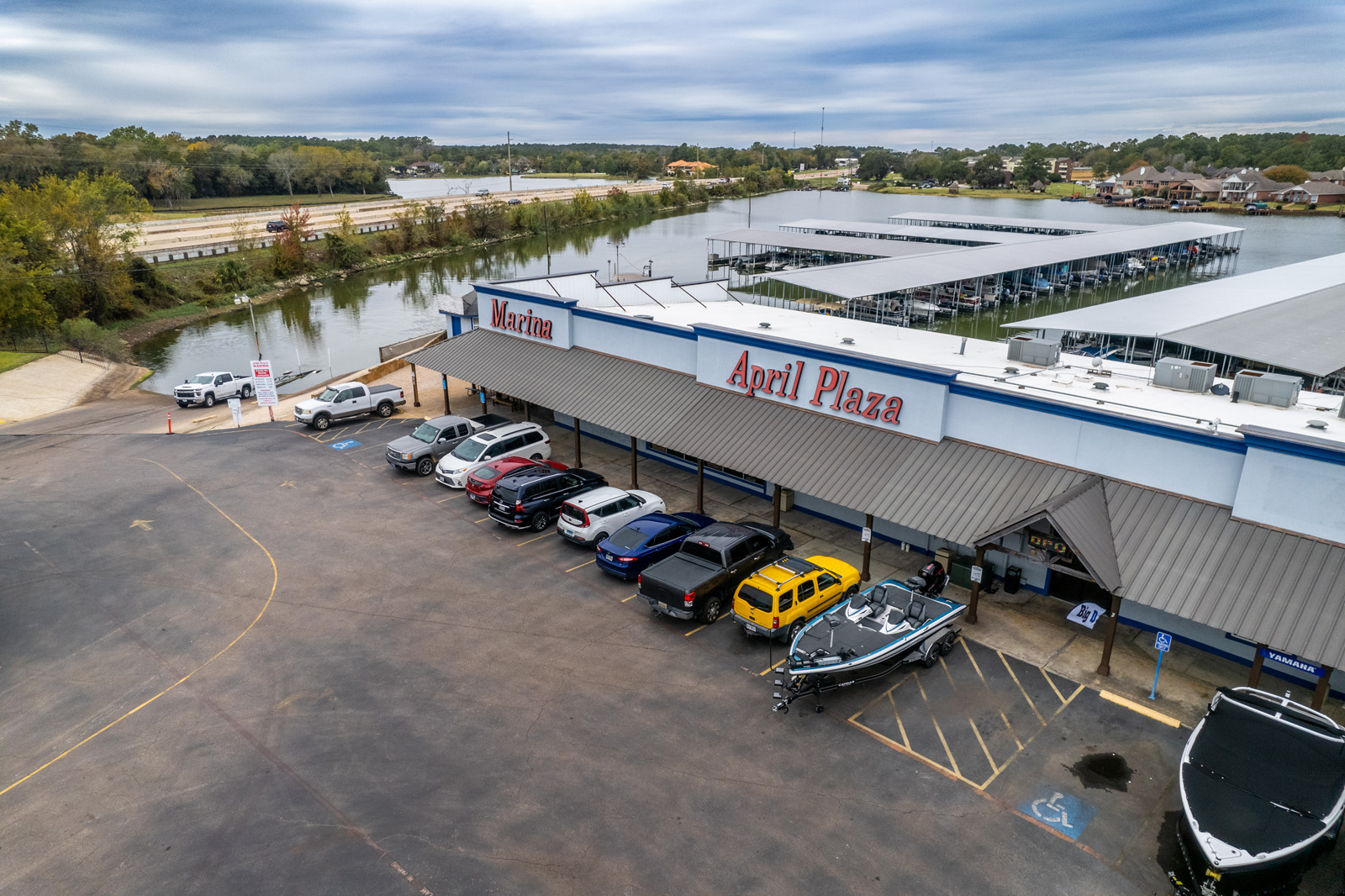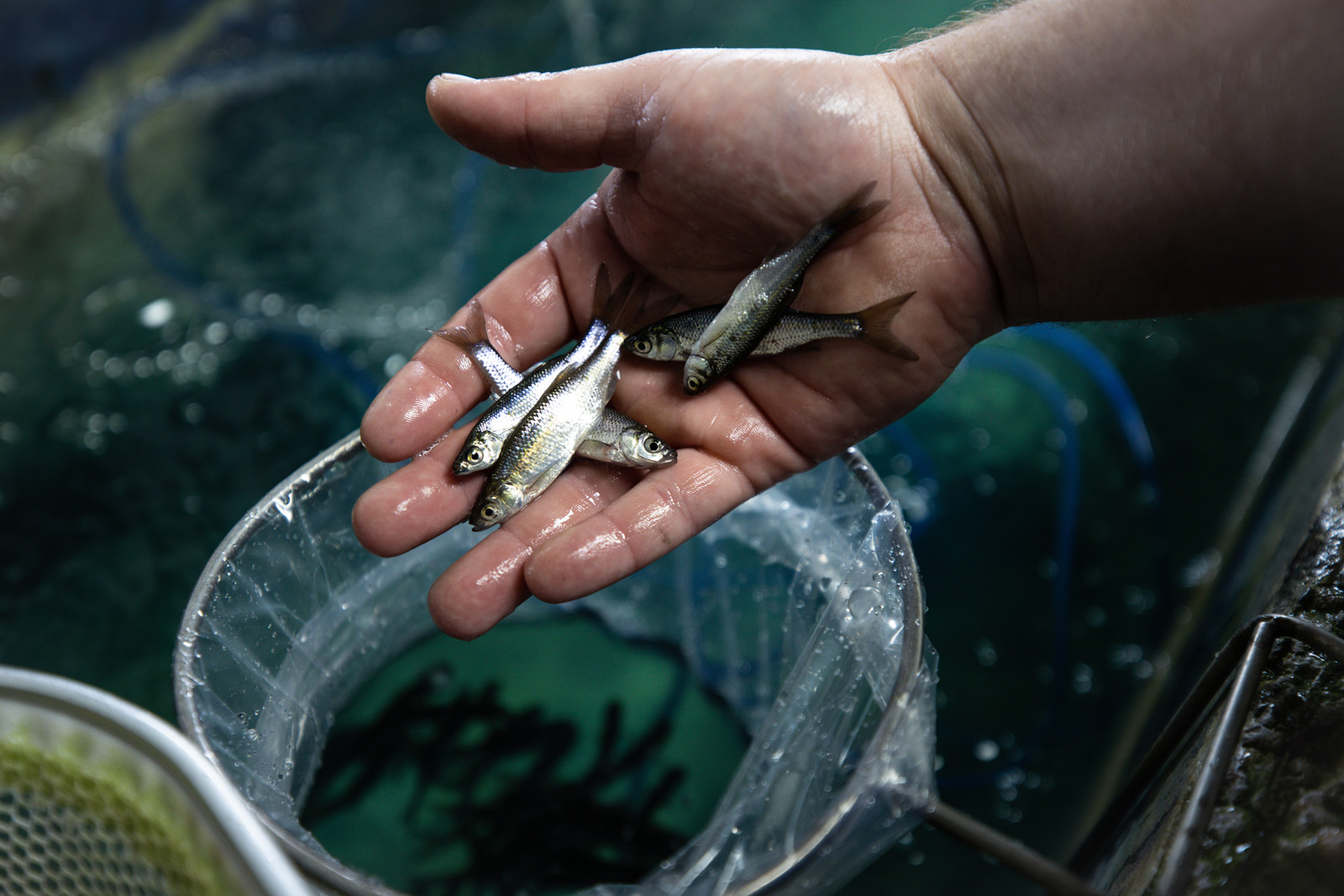 April Plaza Marina is committed to providing a safe, secure, family-friendly environment on Lake Conroe. Our new owners are Texas natives and they understand what it takes to provide the appropriate marine services for a relaxing time with friends and family. We are dedicated to being the premier marina on Lake Conroe.
We invite you to join us at April Plaza Marina. We're confident that our dedicated staff and full host of marine services will meet all of your boating needs for family fun on the lake.